'Essence'
A 3 day yoga retreat November 2020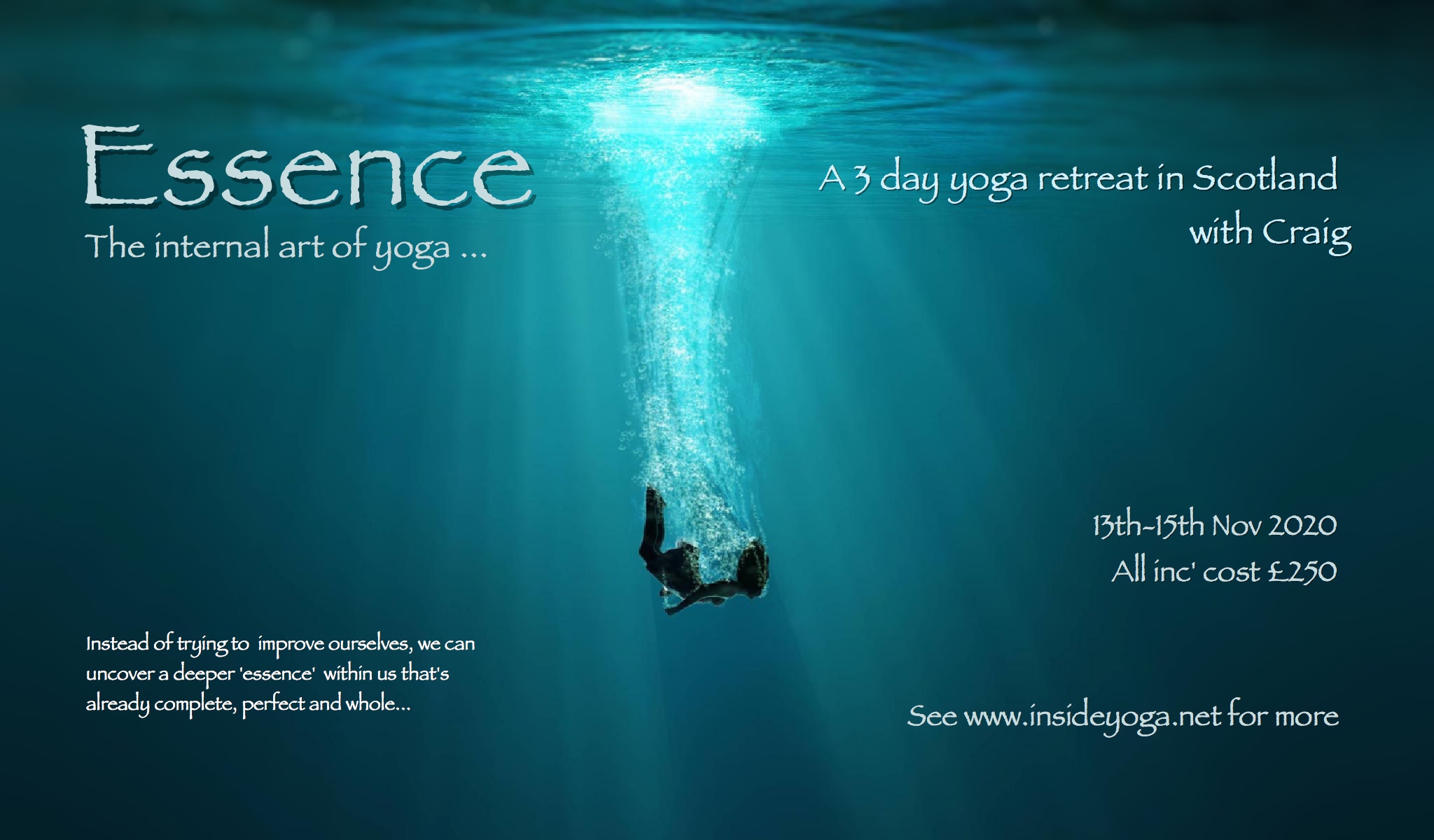 Embodiment and beyond...
Essence (definition): "the intrinsic, unchanging nature of a thing - the property, without which, a thing would not exist"
The source that drives all living and moving things also lies within us; this source or 'essence' is far more vast and powerful than our ordinary conditioned selves. Because it is already within us, previous generations in the East found many ways to reveal this essence and receive it's benefits. Collectively, these ways are called 'yoga'.
Certain postural ways of yoga were exported to the west in the 20th century, there, it developed into a physical pursuit, a sort of stretchy workout with a rest at the end. The original ways of yoga are radically deeper and more impactful than any physical workout. There are many original ways of yoga, but they all transit the individual to uncover a non-physical dimension, a 'place' where thinking can't help - the essence.
The essence; which is aways present, that witnesses appearances change, which never gets old, that has no edge or beginning and no judgement or fear - is within you.
On this retreat, your focus will be on using yoga to bypass your habits of; thinking, muscle tension and the need to achieve - to go increasingly inward. We will slow down and deeply sensitize. This focus will cut through all you've ever known (and heard), so that each experience is fresh. When the mind is truly receptive, it's the mystery of the state we enter that is the yoga.
We will move and work as a cohesive group, using meditation, intention and asana to experience our essence. We will explore how, essence can inform our involvement in our daily actions and perhaps change how we experience life ...
Place - Isolated rural location in central Scotland, high quality accommodation, extensive grounds. Contact me for more.
Food - all food, drinks and snacks included, 100% vegetarian
Timing - we start on a Friday afternoon and finish on the Sunday afternoon.
Format - special morning meditations (optional) , short evening sessions and longer morning workshop sessions.
Accommodation - twin rooms (shared), limited single rooms available (supplement required)
RETREATS WITH CRAIG - SOME FEEDBACK
Check out some comments below from my previous retreats.
" Intense, amazing , emotional, fun ….. what a learning experience and an amazing group of people. I love Craig's yoga and dance sessions, the whole thing felt so rounded and nurturing" (Natasha, Glasgow)
----------------------------
"I am definitely more mindful after the retreat, I feel calm and grounded. The teaching was really good, so knowledgeable; it gave us encouragement and instilled trust giving us the confidence try new things" (Evelyn, Glasgow)
-------------------------
"This has been one of the best experiences of my life, Craig's teaching was inspirational and has given me a new insight into what yoga is. The camraderie and friendship of the group and warmth of the teaching was beautiful" (Jeanette, Falkirk)

-------------------------
What I learnt from Craig over the retreat is what I value most, though it was a privilege to spend so many laughter filled hours with such lovely people. (Barbara, Falkirk)
------------------------------
"A genuine retreat from my everyday world, I deepened my practice and felt nourished. The programme was very skilfully put together, it really deepened my sense of self " (KJA Perth)
------------------------------
"BLOODY EXCELLENT. something new every lesson, people fabulous , food delicious. My back pain has gone and I feel much calmer, please put me on top of the list for next year "(Dawn, London)